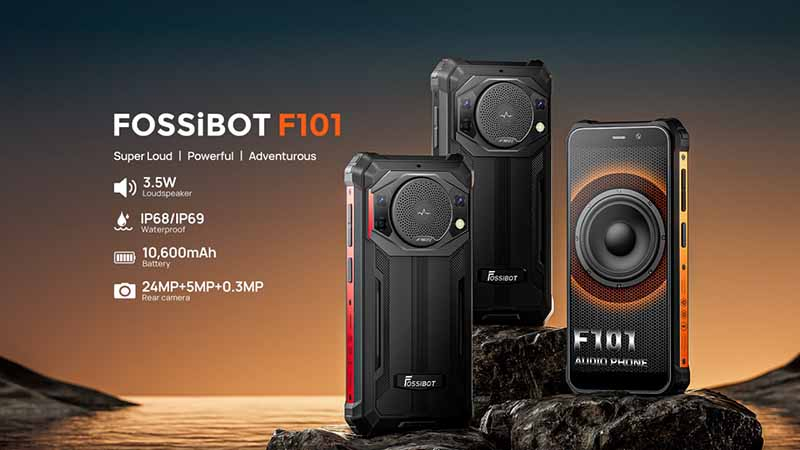 Fossibot F101: A Powerful and Durable Smartphone with a Long-lasting Battery
In recent years, the market for rugged smartphones has grown rapidly. These devices are designed to withstand harsh environments and provide durability that regular smartphones can't match. The Fossibot F101 is a new addition to this market, and it has quickly gained attention for its powerful specs and long-lasting battery life. In this article, we will take a closer look at the Fossibot F101 and its features.
Design and Build Quality
The Fossibot F101 has a sturdy and robust design that can withstand drops and impacts. It has a 6.3-inch display with a resolution of 2340 x 1080 pixels. The screen is protected by Gorilla Glass 5, which makes it scratch-resistant and durable. The phone has an IP68 rating, which means it is water-resistant up to 1.5 meters for 30 minutes and dust-resistant.
The F101 has a polycarbonate body with a rubberized texture on the back, which provides a good grip. The device has a thickness of 14.5mm and weighs around 260 grams, which makes it a bit bulky compared to regular smartphones. However, this trade-off is necessary to provide the level of durability and protection that the F101 offers.
Also Read:

Battery Life and Charging
One of the most impressive features of the Fossibot F101 is its battery life. The device has a massive 10,600mAh battery, which is one of the most extensive batteries available in a smartphone. The company claims that the phone can last up to 10 days on standby and up to 5 days of continuous use. Even if you are a heavy user, you can expect the battery to last for at least two days.
The F101 supports fast charging and comes with an 18W charger. The phone takes around 3-4 hours to charge fully, which is expected given the size of the battery. However, once fully charged, the battery can provide enough power for several days of use.
Performance and Software
The Fossibot F101 is powered by a MediaTek Helio P70 octa-core processor and has 6GB of RAM. The device has 128GB of internal storage, which can be expanded up to 256GB via a microSD card. The phone runs on Android 11 with Fossibot's custom UI on top.
The F101's performance is smooth and responsive, and it can handle most tasks without any lag. The phone can run multiple apps simultaneously, and switching between them is fast and seamless. The device's custom UI is user-friendly and provides some useful features, such as a floating calculator, one-handed mode, and gesture controls.
Camera and Audio
The Fossibot F101 has a dual-camera setup on the back, which consists of a 16-megapixel primary sensor and a 5-megapixel depth sensor. The camera takes decent photos in good lighting conditions, but the quality drops in low light. The phone has a 16-megapixel front camera, which takes good selfies and can record videos at 1080p.
The device has a powerful 3.5W speaker, which is much louder than most smartphones' speakers. The audio quality is good, and the speaker is useful for listening to music or watching videos in noisy environments.
Price and Availability
The Fossibot F101 is currently available in China, Russia and some European countries, and its price is around $300. The phone's affordability is one of its most significant advantages, as most rugged smartphones are expensive and not accessible to everyone.
Conclusion
The Fossibot F101 is an
Also Read:

That's it for this article.
Thanks for Visiting Us – fixyanet.com